ITHACA ISLAND
Over the centuries, Ithaca has become known as the homeland of Odysseus. For many years, Homer's hero wandered the earth before he finally returned to his kingdom.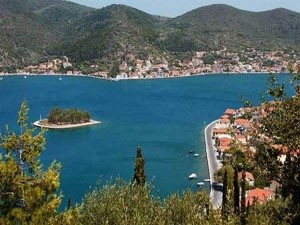 Even though he visited beautiful, exotic and far-flung places, he never forgot Ithaca. Even today, visitors can never forget this small, mountainous island with its enchanting bays; a veritable earthly paradise.
Ithaca is separated from Kefalonia by a channel just 2 Km wide at its narrowest point, widening to 4 km. The west coast of the island is steep and almost barren in contrast to the green, accessible and imposing east coast.
Vathi, located at the end of the deep narrow bay of Molos, is the capital and main port of the island and has attractive red-roofed houses set against a scenic backdrop. Three kilometres to the north-west of the town lies the cave of Nymphs.
According to legend, this is where Odysseus hid the gifts given to him by Alkinoos when he reached the coasts of Ithaca, ten years after the end of the Trojan war. The medieval monastery of the Archangels in Perahori is well-worth visiting.
North of the valley and 600 metres above sea level, the monastery of Kathara offers a unique view of the island from its bell-tower. On the horizon you can just make out the Akarnanika Mountains, the Echinades Islands, the east coast of Kefalonia and also the mouth of the bay of Patras.
In Poli Bay, on the west coast bellow the village of Stavros, is Loizos cave. Artefacts and pots found here testify to the worship of the goddesses Artemis, Athina and Ira in this area. Twelve tripods, similar to those Feakes gave to Odysseus, were also found in the cave, a fact which is of great significance to archaeologists.
The village of Stavros, 16Km from Vathi, is the largest village in the north of the island. Excavations on the mountainside of Pilikata, 1Km further north, have revealed a settlement from the 3rd millenium BC. The finds that were unearthed there support the theory that the ancient city Ithaca must have been located somewhere in the region.
Kioni and Frikes on the north-east coast are both typical, traditional, unspoiled Ionian villages with numerous small tavernas along the waterfront.
Ithaca has amazing beaches for swimming, intriguing caves to explore and small villages untouched by mass tourism. " Finding yourself on your way to Ithaca…", comes from a poem written by Konstantinos Kavafy, who talks about travelling through life with Ithaca as a symbol of your final destination.
Thus, Ithaca, this beautiful green island, is sure to become your own ideal destination.